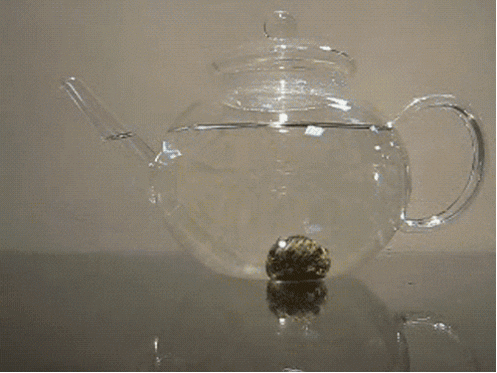 The mystical and magical "blooming" or "flowering" tea is created using certain green and black tea leaves rolled up with dried flowers.
Beginning as a ball the tea opens like a flower blooming. Yes, isn't it interesting?. Making this tea is more of an art than compared to other regular tea. Generally green and white flowering teas are most popular, which are made from the processed buds of the camellia sinensis plant which are usually harvested in provinces of china. These buds are processed into green white and black teas.
The best-looking leaves are combined, making sure all are of the same length and a neat bundle is sewn together, to create a bottom of the blooming tea. Now, one or more flowers like the jasmine, globe amaranth, marigold, lily, rose, trollius chinensis are placed into the leaf bundle and it is shut as a bulb and is left to dry.
Pick a blooming tea ball and toss it into a blooming tea glassware. Now pouring over boiling water into the teapot and let it infuse, it blooms into different shapes like a larger sphere, baskets, garlands and bouquets. It is spectacular and fun to watch it bloom and keeps you guessing what the final shape of the tea will bloom into. While it slowly opens softened by the water for the specifically tiny spaces made between the tea buds and flowers.
An excellent choice of tea to be served, while hosting tea parties. Which is appealing to many palates because of its varied fruity, floral taste. The blooming tea brings different benefits to body. You can try out some spectacular and fun blooming teas click here to be amazed by variety and taste of blooming tea collection at tea central.